Back
Prime Minister Pakistan Launches country's New Instant Digital Payment System
Prime Minister Pakistan Imran Khan has announced country's first government-backed instant digital payment system called "Raast". The project is considered a steppingstone for achieving higher efficiency, boosting the country's formal economic situation and digitization of the economy.
The premier has termed the new system a "big step" towards realizing the country's full potential. While addressing people during the launching ceremony, he said that the State Bank of Pakistan's (SBP) latest efforts would help country to gradually shift to a digital economy and move away from being a cash-based economy.
A step towards digitization of economy
Not just the prime minister but a number of experts believe that reliance on cash economy is a big obstacle in tapping the true potential of Pakistan. "Cash-based economy badly affects tax collection, which is evident with the fact that only two million out of 220 million people are tax filers, while 30,000 of taxpayers make 70 percent of the total tax collection in the country," he said. Raast is a step away (but in the right direction) from the cash-based economy towards the point, where we reap maximum benefits of our 220 million population.
The Prime Minister of Pakistan congratulated SBP for taking this initiative and bank efforts for engaging Pakistanis and convincing them to send remittances through formal channels. Resultantly, foreign remittances have significantly improved, Current Account Deficit has become a surplus, which reduced pressure on the rupee.
What is Raast?
Raast is a
digital payment
system, which is developed by State Bank of Pakistan in collaboration with the Bill & Melinda Gates Foundation, with the support from the World Bank, Britain and the United Nation. It is planned to be simpler, easily accessible, efficient, faster, secure and cost-effective digital payment option and will be rolled out in three phases culminating in early 2022. Another goal for Raast is to boost involvement of women in the formal economy. It is considered as a catalyst for providing sustainable opportunities to small businesses and individuals.
There are already few private digital cash transfer systems such as Jazzcash and Easypaisa operating in Pakistan but Raast would be the first one that is backed by government and would be linked to government entities and financial institutions.
Salient features of Raast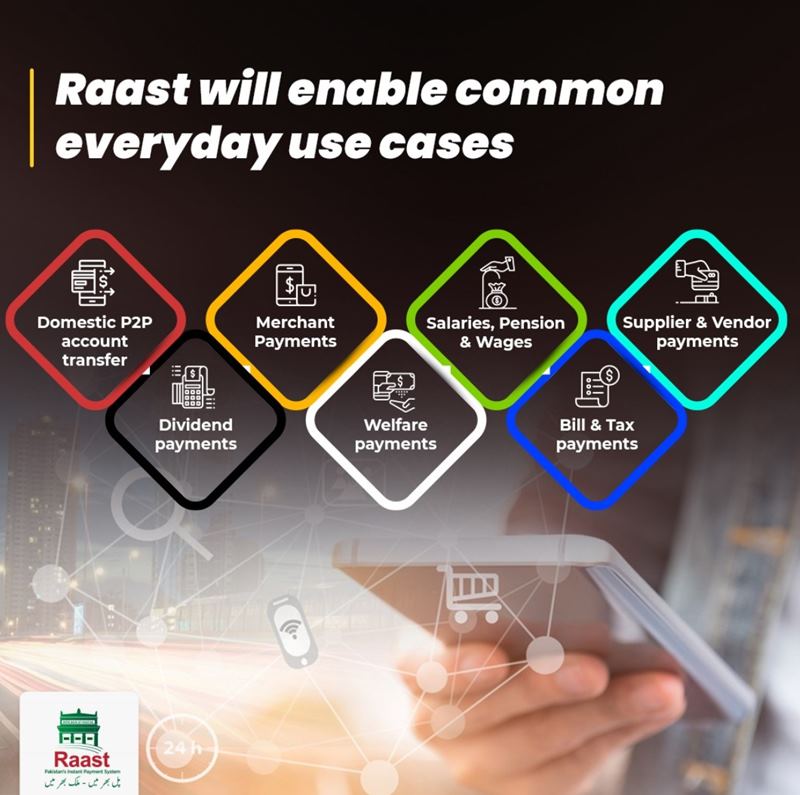 Governor State Bank of Pakistan Reza Baqir highlighted the features of the new digital payment system. "As this system moves forward, and as we get government departments integrated into the system, employees of the government will get their salaries, pension at an instant. Savers, who have to wait in line at National Saving centres will get the payments within seconds and Ehsas Emergency Cash Program another example, which once integrated will allow the payments to be made in seconds," he stated.
"All of these payments, inconveniences, opportunities for officials to create inconveniences in the way of our people will be eliminated once the system Raast is fully launched," said Dr. Baqir. "The state-of-the-art faster payment system will provide cheap and universal access to the people of Pakistan especially those who are financially excluded and less privileged like women," he further stated.
"Each such transaction done through Raast will create a digital history, which will allow banks, as well as fintech, to offer financial customize products to them," said Dr. Baqir. Apart from bringing revolution the financial system, Raast will also help government fight against corruption. Cash is the lifeline of corruption as the government cannot keep trail of every transaction, thus Raast will reduce the lifeline of corruption thus will take the country in the right direction.
He thanked the Bill & Melinda Gates Foundation, the World Bank, Adviser to PM for Institutional Reforms Dr Ishrat Husain, Queen Maxima of the Netherlands, and the British High Commission for supporting digital financial inclusion in Pakistan.
"I hope that in years to come we will look back and see this new digital public good as an important contribution to our shared goal of giving all people the tools they need to lift themselves out of poverty," Bill Gates said in a statement which was shared with the audience during the ceremony.
How will it help economy?
Despite having a few digital payment systems in the country, digital payments only account for 0.2 percent in Pakistan's nearly 100 billion transactions. Comparatively, the share of digital transactions in other developing countries range from 1.5 to 7 percent, according to the data collected by State Bank of Pakistan. It is expected that Raast digital payment system (being backed by government) will boost digitalisation, increasing financial inclusion in the country and facilitate the businesses.
Raast = A remarkable step towards a better tomorrow
Gates Foundation CEO Mark Suzman virtually joined the ceremony and appreciated the step. He said, "With Raast in place, individuals, small businesses and government agencies will be able to transact seamlessly and at low cost". He further expressed the joy that the foundation is eager to be a part of new era thus supporting all the efforts towards digital financial inclusion in Pakistan and expressed that, "full range of government payment programmes in Pakistan will be routed through Raast" soon.
Being a Pakistani, I am feeling proud of this initiative taken by the current government. How do you feel? You can also share your views with us by writing at
contact@homespakistan.com
. Moreover, you can also subscribe to our newsletter or visit our official
Facebook page
to stay updated about market happenings and
latest industry news
.